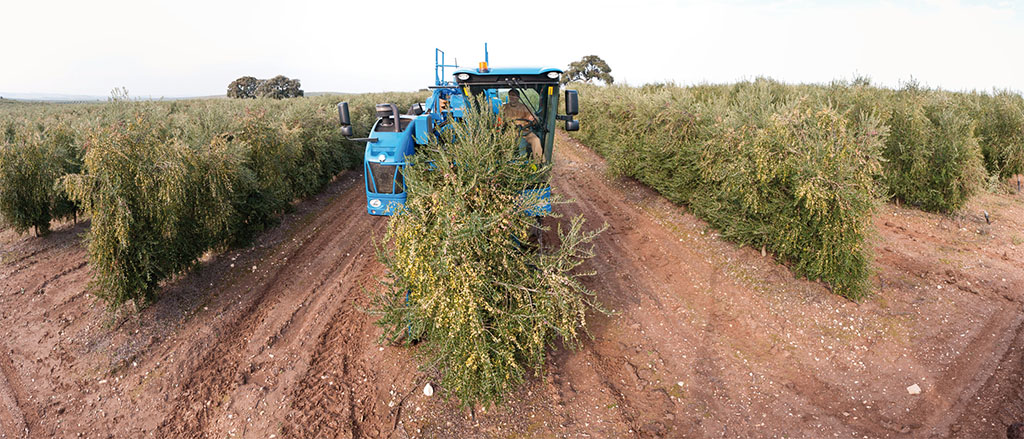 The Todolivo High Density Olive Grove System.
100% of the oil obtained is Extra Virgin and is produced at less cost.
PRINCIPAL BENEFITS
The Todolivo High Density Olive Grove System
Apt for rainfed, irrigated and support irrigation properties.
100% of the oils obtained with this are extra virgin oils due to the speed of the harvesting used by the harvesting machines, which makes it possible to harvest from 10 to 25 hectares per day (50 minutes and 2.5 hours/hectare) depending on the pattern of the plantation. This velocity enables us to harvest the totality of the olives of a property at the optimum time of their maturing in order to produce extra virgin oils of the highest quality.
We use non-alternating varieties which have a strong tolerance to disease. Such as SikititaP, Arbequina Clon I-21®, Arbosana Clon I-43®,Koroneiki Clon I-38®, Imperial Clon I-23®, Manzanillo Cacereño Clon I-57®, Picual I-11®, Arróniz Clon I-65®, Blanqueta Clon I-55®, Callosina Clon I-69®, Hojiblanca I-53®, etc.
The harvest is carried out with a harvester quickly, simply and economically. They can harvest on slopes due to their "Self-levelling System".
Fast entry into production. As from the 2.5 years.
The Todolivo High Density Olive Grove System
Profitable with no need for subsidies.
It enables the production of 1 kg of extra virgin oil below the costs of the traditional intensive olive grove.
The production is high and constant.
Rapid recovery of the investment due to its precocity and productivity.
The Extra Virgin Oil of olive grove in hedge is highly appreciated and quoted on international markets owing to its extraordinary organoleptic properties. It combination makes it possible to carry out "coupages" which enable the obtaining of oils with unique flavours and aromas.
It considerably reduces the operating costs, such as the harvest which is situated at between 1 and 3 cents of euro / kg of oil, depending on the existing vegetable mass, kg of olive/hectare and the level of the grip of the olives.